BoatsBazar and Charters.com Boats and Charters

-

is a listing and Boats and Charters directory, where professional merchants but also private sellers connect with buyers from around the world. If you are a seller, you can add listings in few seconds, and if you are a buyer you can search listings to find your dream object!
Article About Male - Maldives


Coral Sea and Its Diving Spots by Jakob Jelling - info@boatsbazar.com (it was shown 3539 times)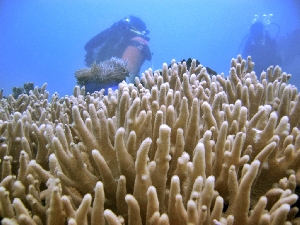 Coral Sea is one of the most interesting diving areas of Australia. This place contains a wide variety of different diving spots and allows divers to choose among several different types of diving, all of them offering a lot of fun and interesting activities for visitors of all expertise levels.

The Coral Sea has several reefs for divers to explore and which together conform a varied diving area. This area is located at about 15 hours from the coast of mainland Australia. The Coral Sea is often divided as Northern and Southern Coral Sea. The Northern area is near to Port Douglas and Cairns and is often the most known of these two Coral Sea's main sections.

One of the most famous Coral Sea's spots is where the Giant Potato Cod is. The Giant Potato cod is at the area known as the Cod Hole and visitors can not only observe it but also be next to it and feed it. The Cod Hole is very interesting not only due to the Giant Potato Cod but also due to the great amount of marine life it contains.

The Ribbon Reefs is a great area which divers who visit the Coral Sea should not miss. This area contains a spot known as the Osprey Reef which is actually one of the regions' spot which offers the most exciting diving activities along with a very beautiful underwater environment.

Those divers who enjoy challenging activities should go to the Northern Coral Sea. The Northern Coral Sea is an area full of challenging diving spots and activities among which, we can name for example diving near to sharks, practicing deep diving or diving in currents among others.

The best months for divers to visit Coral Sea is between September and January since this is the less windy season at the region. Weather at Coral Sea is often very windy and it is not so unusual that boats have to change their itinerary due to it and avoid passing through this area. When this is the case and divers who approach Coral Sea can not reach to that point, they usually are taken to another close by diving area.

Copyright © 2005 Jakob Jelling

About Jakob: Jakob Jelling is the founder of http://www.divepilot.com. Please visit his website to discover the world of diving!



Important Site links:
http://www.divepilot.com





[ ROME -
10/December/2023 06:41:40
] We have
331
objects listed. Yesterday traffic on boatsbazar and charters Boats and Charters was: unique visitors with page views.
| | | |
| --- | --- | --- |
| We accept, payments through bank wire, western union and credit cards with PayPal or Bankpass: | | |
Giovanni Ceglia's sites
:
E-Merchants Services
-
Programmer's Community
-
Merchant's Community
-
Videogame Developer's Community
-
Videogames & Programming
Programming Articles
-
Graphic Services
-
Job Search Services
-
Hotel & Accommodation Directory
-
Hosting Services
-
Identity Verification Services
Cheap Hosting & Domain Registration
-
Business And Commercial Properties
-
The Complete Giovanni Ceglia's Network
-
Hardware and Software
-
Malmignatta Search Engine
BoatsBazar and Charters.com is a worldwide and international Boats and Charters and listings directory, with thousands of Boats and Charters listings, divided into countries and regions. All material, the structure, and the layout on this site are © Copyright of boatsbazar and charters.com by C. Giovanni located in Trento N. 74 Pal. I Street in Pagani(Salerno) - Italy. Italian Business Code: Partita IVA N. IT03972320653, registered in the "Camera di Commercio" of Salerno.

BoatsBazar and Charters.com is one the C. Giovanni projects, started on 20 July 2005, and online since 20 August as a Boats and Charters platform for listings, mainly operating on the Italian and American/English market in the Internet, boatsbazar and charters would like to become the point of referiment for home sellers and home buyers, a site where private owners or professional merchants can have the possibility to show their offers to the world. boatsbazar and charters.com is only one of the Giovanni Ceglia's sites. Everyday Giovanni Ceglia works to improve new Internet tools and services for online marketing and business. boatsbazar and charters.com will become the biggest portal for Boats and Charters business and investments online.