BoatsBazar and Charters.com Boats and Charters

-

is a listing and Boats and Charters directory, where professional merchants but also private sellers connect with buyers from around the world. If you are a seller, you can add listings in few seconds, and if you are a buyer you can search listings to find your dream object!

1999 Stingray 200 CS Cuddy Cabin Boat

(Ref: OBJ1_349)
The 200CS was built for all-day fun while providing a safe environment for passengers of all ages.



Main Features :
Object Type :
Motorboats
Object subtype :
Country :
Portugal
City :
Lisbon
Zip Code :
Region :
Lisbon
Address :
For Sale :
For Sale
Year Made :
Listing Data :
30/April/2012 13:46:29
Listing Clicks :
1645




Sale/Rent Pricing Options
This object is
For Sale
Sell Price:
5500,00 Euro


Click here to browse all listings of this user.
Recommend this object to a friend.
Print this object.
Description :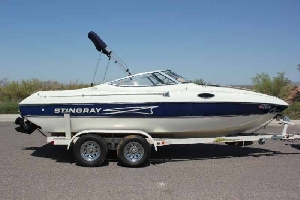 This Stingray has been set up with a 220HP Mercruiser 5.0 TKS engine mated to aMercruiser Alpha One Drive.
This boat shows only 140 hours of total use.
Type: Cuddy cabin Engine type: Single inboard/outboard
Length (feet): 20.0 Engine make: Mercury Primary fuel type: Gas
Engine model: 220HP Mercruiser 5.0L V8
Hull material: Fiberglass Trailer: Included


Some of the excellent features on this boat include:
* Pilot swivel seat
* Rear jump seating
* Passenger back-to back folding seats
* Sony sound system
* Marine speakers
* Cabin with V-berth and 2 seats
* Cabin sink, stove and porto-potti
* Depth finder
* Sport tilt steering wheel
* Ritchie compass
* Woodgrain trim
* Floor carpet
* Bimini top
* Swim platform
* Bow rails
* Wrap-around windsheild
* Stern boarding ladder
* Storage cover

This boat also comes with a 2-axle Zieman boat trailer in great condition. This trailer is equipped with a set of chrome rims wrapped in some Carlisle 205/75R14 Radial Trail tires showing 90 tread life left. This trailer has been serviced and is in great condition with no signs of abuse or damage.

This boat has gone through a complete mechanical/electrical inspection and is ready to go!
Contact Details
Object Owner Contact Form

| | |
| --- | --- |
| Contact: | Nikolai |
| Telephone(home): | |
| Telephone(office): | |
| Telephone(mobile): | |
| Fax: | |
| Website: | URL |



[ ROME -
10/December/2023 05:34:35
] We have
331
objects listed. Yesterday traffic on boatsbazar and charters Boats and Charters was: unique visitors with page views.
| | | |
| --- | --- | --- |
| We accept, payments through bank wire, western union and credit cards with PayPal or Bankpass: | | |
Giovanni Ceglia's sites
:
E-Merchants Services
-
Programmer's Community
-
Merchant's Community
-
Videogame Developer's Community
-
Videogames & Programming
Programming Articles
-
Graphic Services
-
Job Search Services
-
Hotel & Accommodation Directory
-
Hosting Services
-
Identity Verification Services
Cheap Hosting & Domain Registration
-
Business And Commercial Properties
-
The Complete Giovanni Ceglia's Network
-
Hardware and Software
-
Malmignatta Search Engine
BoatsBazar and Charters.com is a worldwide and international Boats and Charters and listings directory, with thousands of Boats and Charters listings, divided into countries and regions. All material, the structure, and the layout on this site are © Copyright of boatsbazar and charters.com by C. Giovanni located in Trento N. 74 Pal. I Street in Pagani(Salerno) - Italy. Italian Business Code: Partita IVA N. IT03972320653, registered in the "Camera di Commercio" of Salerno.

BoatsBazar and Charters.com is one the C. Giovanni projects, started on 20 July 2005, and online since 20 August as a Boats and Charters platform for listings, mainly operating on the Italian and American/English market in the Internet, boatsbazar and charters would like to become the point of referiment for home sellers and home buyers, a site where private owners or professional merchants can have the possibility to show their offers to the world. boatsbazar and charters.com is only one of the Giovanni Ceglia's sites. Everyday Giovanni Ceglia works to improve new Internet tools and services for online marketing and business. boatsbazar and charters.com will become the biggest portal for Boats and Charters business and investments online.